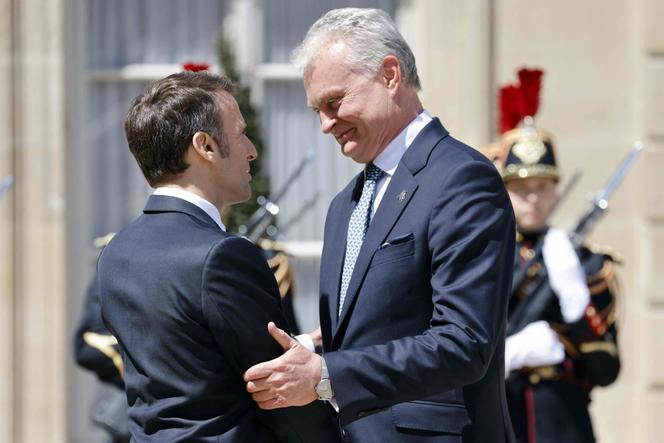 Gitanas Nauseda, 59, has been the President of Lithuania since 2019. The economist-in-training was in Paris on Wednesday, May 24, to prepare with Emmanuel Macron for the next summit of the North Atlantic Treaty Organization (NATO), which his country is organizing on July 11 and 12 in Vilnius.
What perspective do you see for Ukraine's integration into NATO?
Discussions at the Vilnius summit will largely be occupied by the issue of Ukraine. Even today it is difficult to find the right formula. Ukraine will not join NATO in the midst of war. But one cannot say that the door is only open without specifying. Don't send him the wrong signal. We cannot be stuck with a hybrid, incomprehensible solution.
That is why we are preparing various promotions. First of all, its military integration into the alliance, because the Ukrainian army is gathering very important experience on the ground and in combat operations. There is also a political solution that could come through the creation of a NATO-Ukraine Council, a body that would bring us closer together and discuss membership.
At the same time, there is the issue of providing bilateral security guarantees to Kyiv. This issue was discussed among leaders at the G7 last week and France is playing an active role in these discussions. It would be ideal to receive the proposals at the Vilnius summit so that they can be considered together.
The United States has announced that it does not want Ukraine to join NATO, but has it indicated what it wants?
So far, the US position is not clear. It will be revealed in the coming weeks. However, I see a lot of energy pushing the leaders of the alliance to find a solution in cooperation with the Ukrainians.
What does it mean to strengthen the eastern flank of the alliance, which is also being discussed in Vilnius?
The issue of air defense is becoming critical for Lithuania and the Baltic states. Since 2004, we have benefited from support to protect our airspace, especially thanks to the help of the Allies and especially France. But we have to move to the next stage, the formation of ground-air defense elements. This is not easy, as the supply of anti-missile defense systems today is extremely limited.
Many systems are assembled and shipped to Ukraine, which is a priority. We understand that. We offer installation of ground-air defense elements in rotation. Some allies who still have these items can equip them temporarily. Systems can come from the Netherlands, Germany, France. We have made proposals to our allies. We hope to reach an agreement.
Source: Le Monde