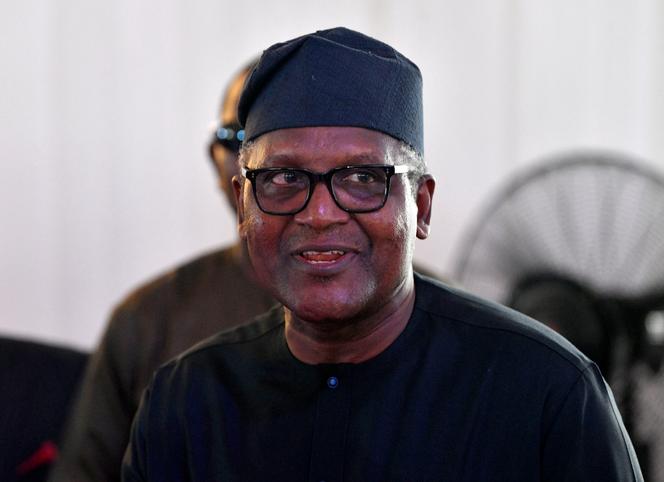 Nigerian businessman Aliko Dangote, Africa's richest man (estimated at €18.2 billion), has been considering buying a European football club for several years. In 2016 and again in 2021, the billionaire unsuccessfully tried to buy Arsenal, one of the jewels of English football, of which he is a big supporter.
The businessman has not given up on his ambition to become the only African owner of a European club after Egyptian Mohamed Al-Fayed sold Fulham (England) in 2013. As the magazine announced in April. team, He is now interested in Valenciennes FC (VAFC) who play in French Ligue 2. Club president Eddy Zdiech confirmed to the sports newspaper that he was ready to sell and assured that there were contacts between the two parties.
Two months later, a possible takeover of Valenciennes appears to be in the works. Aliko Dangote's representatives have issued the first non-negotiable terms to see Valenciennes develop in Ligue 2 for the 2023-2024 season. Two days before the end of the championship, the Northern team ranks 14the place in the ranking, but it is not yet guaranteed to keep itself. Both parties must also agree on the price. "The value of the club is estimated at 15 million euros, to which ten million euros must be added to cover the debt.", says a VAFC shareholder. In case of sale, Edi Zdiech will have to give up the presidency of the club.
magazine in April taking It was emphasized that Jean-Louis Borlou, former minister of Nicolas Sarkozy after Jacques Chirac, plays in this case. The former mayor of Valenciennes (1989-2002) and president of the club heads the Energies pour le monde foundation, which operates in Africa, and knows Aliko Dangote personally. "He is certainly aware of the discussions because he is in contact with Mr. Dangote. It can be assumed that if the latter is interested in Valenciennes, it is not accidental. It is true that it is the club with the history of French professional football that has the last stadium, but there is another in France. [Saint-Etienne et Dijon, notamment] which are potentially sold"Luc Arondel, director of research at CNRS, teacher at the Paris School of Economics and specialist in football economics. According to a source close to the Nigerian, he is exploring other options if a move to Valenciennes fails.
Ambition League 1
According to our information, the businessman would not want to be inspired by the so-called "trade"Which involves buying young players – if possible not too expensive – promising players and exposing them at the professional level with a view to reselling them after a year or two with a strong added value. "Trading takes you away from the sports project and can make you lose money because it's a risky systemLuc Arondel continues. If he buys Valenciennes, Aliko Dangote will probably rely on a training center that works well, knowing that the French training is a reference in the world. He earns some money by selling players trained at the club. With the ambition of returning to Ligue 1 in the long term.
The billionaire wants to buy two more clubs in the top 5 European countries (Germany, England, France, Spain, Italy) in the medium term. According to a close friend of Aliko Dangote, one of the operations will be completed. "He is a man who loves football. When you have assets like his, buying a club for 15 or 20 million euros is a wise investment. He will have fun and try to get results, which is good for exposure and to avoid losing money, which happens quite often in football.Luc Arondel adds.
The acquisition of one or more European clubs may allow Aliko Dangote "The prosperity of other markets in relation to its numerous activities", According to the economist: "It is a plausible hypothesis because he remains a businessman. » Although he derives more than 80% of his income from cement work, the seventy-year-old heads a group that operates in various sectors such as real estate, agri-food and now oil, after inaugurating a mega-refinery in the Lekki Free Zone on the outskirts of Lagos.
Source: Le Monde