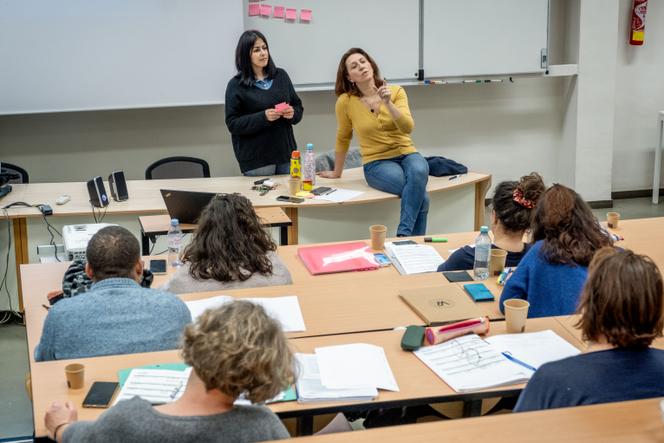 70 registered annually, half doctors, half nurses, plus a few physiotherapists and psychologists, University Diploma (DIU), led by Elis Persault-Chambard, head of service at the Lyon-Sud Hospital. "doesn't know the crisis", greets. Entitled "Advancement in palliative care", it offers healthcare professionals, most of whom are already trained in this practice, the opportunity to compare their experiences and improve clinical, therapeutic and ethical approaches to ensure the best quality of care and the best quality of life before the patient dies.
When she was interning at the Lyon Palliative Care Unit in the 2000s, Elie Perso-Chambard had "spark, crush". After his thesis, he never left the department until he was appointed its director. The professor easily conveys his enthusiasm this Monday, March 6, in the hospital's small amphitheater. On the screen, he designed the Venus exhibited in the British Museum in London. Six frames, each from a different angle, illustrate the complementarity of professional perspectives that drive the palliative care team. "The patient is the person to whom we give the service to understand the whole subjectivity of his situation"It determines.
On the IUD program, several sessions discuss the best way to feed a patient to relieve rebellious pain, to overcome a refractory symptom, to test innovative drug treatments for depression or delirium. End of life … role play enriches the relational skills necessary to respond to the existential, social, and psychological distress of the patient and his environment. The "students" paid 1,300 euros for a hundred hours of classes, an internship and a written exam, which would allow them to return to their own department. "better armed" to relieve and support their patients.
What posture should we take?
The university system is such that only volunteer interns and caregivers can train in palliative medicine. Like Ekaterine (named people who wished to remain anonymous), a psychologist for twenty-six years and holder of a diploma course in gerontology. When she joined the palliative care mobile team in Bourg-en-Bresse seven years ago, she used her experience and knowledge of concepts such as support and grief. "But I miss the medical and paramedic approaches every day"he explains.
Source: Le Monde