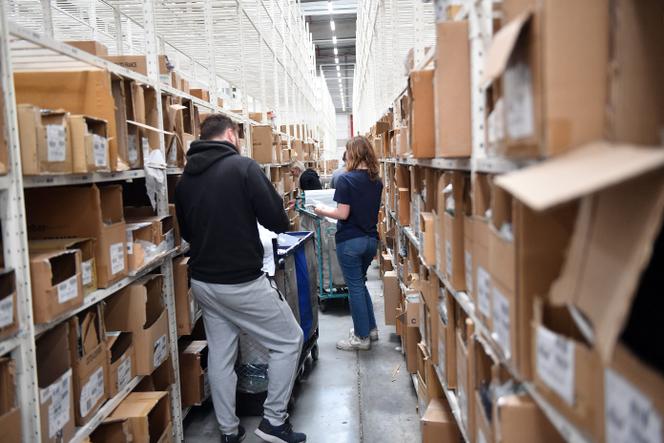 From the journalist's memory, we have never seen this in a social conflict: a press conference of striking employees. It happened on Friday, May 26, at the Vertbaudet logistics warehouse in Marquette-lez-Lille (Nord). The same one that has been in the spotlight for more than two months due to the emblematic strike by 72 workers for a wage increase – the mandatory annual bargaining agreement (NAO) signed by unions FO and CFTC in early March. We only offer bonuses.
Who took the initiative of this conference? Officially, for those who are uncomfortable "reaction" that "Union and political announcements from the beginning of the week" – There were demonstrations in support of the strike in Turkuing (Nord) and Paris. But management assistance blurs the lines of the exchange. It was a letter from the communication department that invited the journalists. And on Friday morning, the management assistant leads them to the warehouse. "Because the employees are still in their positions"He explains when we are surprised.
That's right, the call sounds on the loudspeakers for them: "Your attention please, communication will take place in C1 at 9.25am." C1 is where a few chairs were lined up for the press, in front of a table and microphone. About two hundred people crowd into a space enclosed by stacks of pallets and folded cardboard, not far from the entire unwanted workforce (255 employees).
sincere words
Do they know why they are coming? "Management will relate to conflict, right? They do it regularly., considers a small group of temporary workers. How many of them, moreover, are still not protected by CDI, you ask? Slowly he raised his hands: half of the gathering.
The conference begins. FO and CFTC delegates do not participate. Only three employees speak in turn. Their sincerity is beyond doubt. First Caroline Binot, packaging for twenty-two years. "This strike, I could have gone there. 0% growth was hard for me to swallow too, He explains. But with the NAO ending two weeks earlier, the moment was no longer right. And then, I saw outside support, from the CGT, which prevented the lorries from driving violently. And two invasions, it was extremely trying, we were attacked. »
On April 11 and 14, according to the management, injuries and violence were caused by strangers and six people were taken care of. "in a state of shock" by firefighters. "When we hear calls for a boycott, it worries us. adds the employee. This community is what keeps us alive! » Louise, a quality controller since 2002, stands up against it "lie" In social networks: "The hierarchy does not treat us as slaves. This is not my experience. I have never been tortured. »
Source: Le Monde