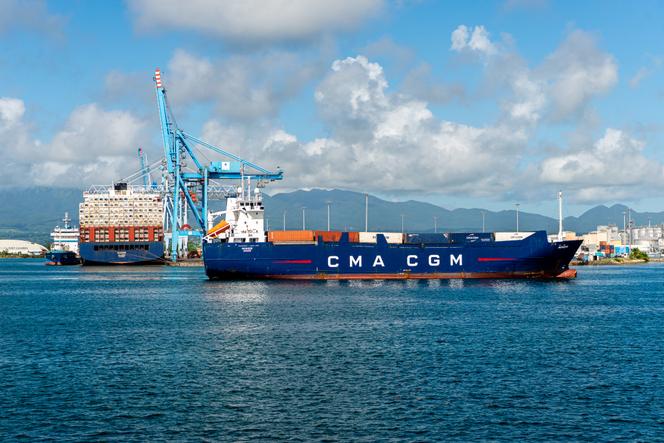 Container ship owners have been waiting for this for months: a slowdown in world trade in manufactured goods has led to a return to normal freight rates and an acceleration in the decline in profits starting in the second half of 2022. French CMA CGM said on Friday. As of May 26, the net result is $2 billion (€1.86 billion), a far cry from $7.2 billion a year ago. As for the turnover carried out by the maritime sector, which is only one of the areas of activity of the transport group, it decreased by 30% (12.7 billion). "In a deteriorating market environment".
Japan's Ocean Network Express was the first to announce a 45% drop in profits in late April for its latest quarterly exercise. Then Denmark's Maersk, the world's second-biggest after Italo-Swiss Mediterranean Shipping Company (MSC), posted results on May 4 that split by three to 2 billion euros.
"Continuous inventory depletion and congestion relief [portuaire] led to volume declines in all segments"According to the flagship of the Danish industry. As for Germany's Hapag-Lloyd, its €1.89 billion in Q1 2022 pales in comparison to €4.2 billion.
Excess capacity risk return
CMA CGM managers indicate that this will be the first quarter "Best of the Year" And we expect more difficult months. Competition between giants will intensify Transportation. Like its rivals, the Marseille group will have to max out container ships capable of carrying up to 24,000 "boxes" when the threat of overcapacity, a recurring bane in the sector, looms again. The price war is set to intensify among the major shipowners.
Most of them have ordered ships from Chinese and Korean shipyards between 2024 and 2026. MSC is set to pass the 5 million container mark very quickly, according to firm Alphaliner, which also sees CMA CGM overtaking Maerk in terms of "boxes". . The French group has ordered more than sixty container ships, including twenty powered by liquefied natural gas and methanol.
Ships delivered by 2026 will increase global capacity by 30%, CMA CGM executive estimates. Will demand be able to absorb them, even if the boats break? "New capacity delivery next quarter should continue at freight rates"admits CMA CGM in a press release where CEO Rodolphe Saade does not make a statement.
Source: Le Monde